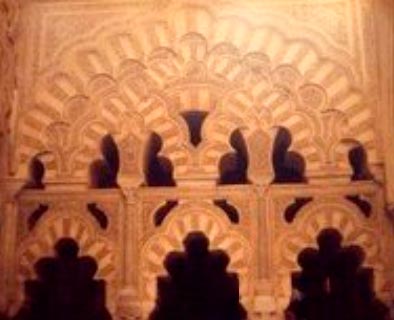 Abderraman I built, in 785, a colossal hall consisting of 11 longitudinal naves, going from North to South, and 110 columns, the capitals and fusts of which were re-used from old Roman and Visigoth materials. These elements stand out because they are placed at different heights, due to the way the hall was constructed. This first Mosque has an unorthodox orientation, facing south, like the Great Mosque of Damascus.
Several explanations have been proposed to explain this fact. Some suggest this is because of the sandy river bed, which made it impossible to build the Mosque the orthodox way, that is, orientated to the "Meca". Inside, the niche for prayer gets all the focal attention.
Another singular characteristic of the Mosque of Cordoba is the use of horseshoe arches which are original of the Visigoth Art. These elements were then introduced in the Islamic architecture becoming a symbol of their style. The naves are divided by double arches to help support the weight of the higher ceilings. The double arches, then an architectonic novelty, consist of a lower horseshoe arch and an upper semi-circular arch. The alternating brick and stone elements (red and white) give the Mosque of Cordoba a distinctiveness that will be maintained in latter constructions. The double arcades provide greater height within the hall and a better illumination of the interior spaces. The origin of this singular constructive method, by raising the ceilings using double arches, appears to be inspired by the Roman aqueduct of "Mérida" ("Acueducto Romano de los Milagros").
The successor of Abderraman I, was his son Hixem I, who was in charge of constructing the first "Alminar" (Minaret: tower used for calling to prayer) of the Mosque of Cordoba with a rectangular floor plan hall. Hixem I was also in charge of building the women's galleries for prayer and also the construction of the first ablution basin. These alterations completed what became, for the history of Muslim architecture, the first Mosque of this town. Later, owing to the increase of the faithful, and the ruler's love for the grandiose, the Mosque will have numerous expansions and reforms until it reached its actual state.