History of the courtyards of Cordoba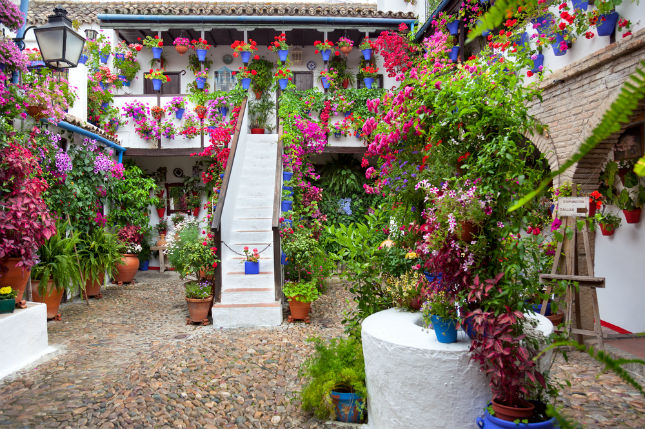 Due to the hot, dry Cordoban climate, the city's inhabitants, - first the Romans and later the Moslems - adapted the typical design of the popular house to their needs, making the home centre around an inner courtyard (patio in Spanish), normally with a fountain in the middle and often a well to collect rainwater.
The Moslems made further adjustments, giving the house an entrance from the street which passed through a porch, and filling the courtyard with plants to give the sensation of freshness.
There are clearly two types of courtyard. The first type is in a one-family home in which the rooms are arranged around the courtyard - it usually has arches and either a clay tiled or decorative pebbled floor.
The second type is called a neighbours house (casa de vecinos). Here the individual homes look out onto the courtyard - however, these are much less common nowadays. It usually has two floors and the courtyard is made all the more attractive by the long balconies, staircases and baked clay roof tiles. The floors usually have decorative pebbles and there is often a well instead of a fountain, as well as a communal washing room.
The most characteristic district is the Alcázar Viejo district, between the Alcázar and the parish of San Basilio, although there are also many in the districts of Santa Marina, around the church of San Lorenzo and near la Magdalena. Just around the Mosque-Cathedral, there are also very beautiful old examples of courtyards in the old Jewish quarter. The most beautiful courtyards of all are to be found in the Palacio de Viana (Viana Palace), with twelve different courtyards.
Maps Courtyards Córdoba 2018
Videos of Patios Festival Córdoba 2018
Source: TVM Córdoba
Since 1921, the Town Hall has organised a competition of Courtyards and Crosses in the first week of May, and the owners decorate their houses with great care to try and win the prestigious award offered by the authorities. A festival runs in parallel with a number of performances by the best singers and dancers on the scene, while the local fino wine from Montilla-Moriles flows freely and delicious tapas are served.
It is thanks to these events that the Cordoban courtyard is becoming more and more important in popular festivities, and helps the general public to celebrate and welcome these festivals with enthusiasm and hospitality.
Take a guided tour to the festival of the patios of Cordoba: