The building that holds the Museum Julio Romero de Torres is part of the old Hospital de la Caridad (Charity Hospital) patronized by the Reyes Católicos (the Catholic King and Queen) towards the end of the 15th century and attended to by the Franciscan Order. From 1837 it was handed over to the Diputación Provincial , and several cultural institutions occupied the place; it is the seat of the Royal Academy, Commission of Monuments, Library and annexes of the Museum and Fine Arts School of the Province.
When Julio Romero de Torres died (May 10th 1930) his widow and sons bequeathed to the people of Cordoba (being depositary the Town Hall), the artist's paintings that had participated in the Exposicion Iberoamericana of Seville in 1929, in order to create a Museum on his memory. Its funds were fed with bequests and deposits from private owners and with the works and furniture of the painter's studio in Madrid.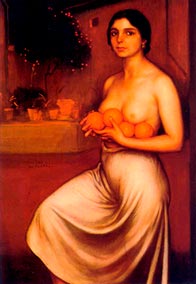 After an important reformation to adapt the interior building as well as the outside of it, made by the architect Javier de Luque , the Museum Julio Romero de Torres was inaugurated on the 23rd November 1931, by the then President of the second Spanish Republic Niceto Alcalá-Zamora . In 1936 its rooms were enlarged, incorporating a second floor and a marble staircase; all these works were financed by the Diputación , and they were opened to the public on May 24th. In 1992 the Museum was modernized with the renovation of its structures, its lighting and security systems.
Address: Plaza del Potro.
Fare: 4 €. Friday: Free entrance.
Timetable:
Summer:
Tuesday to Saturday:
10,00 – 14,00 h.
16,30 – 18,30 h.
Monday: closed.
Sunday and Festives:
9,30 – 14,30 h.
Afternoons: closed.
Monday: closed.
Winter:
Tuesday to Friday:
8,30 – 19,30 h.
Saturday:
9,30 – 16,30 h.
Sundays:
9:30 a 14:30 h.
Monday: closed.