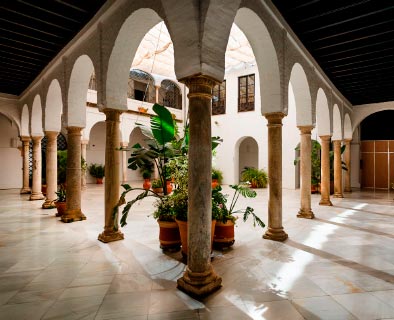 The Taurine Museum, without doubt one of the most remarkable museums in Spain, is located at the Maimónides square in the ancient house of Las Bulas , built in the 16th century. It was acquired by the Town Hall in 1954 to house in its interior the Museum of Popular Arts.
Nowadays it is dedicated only to matters concerning the bullfighting world, and particularly to the bullfighters of Cordoba.
There are two floors, on the ground floor there is the library, surrounding a typical Patio Cordobés (Cordovan courtyard). This library contains a collection of old documents, magazines, playing cards, etc. connected with bullfighting, as well as a splendid collection of engravings showing many of the old types of bullfighting which are not used today. On the top floor we can find along the corridors a collection of old posters signed by Romero de Torres , and some others with curious marginal notes, such as one from 1899 that advertises, besides the bullfights, projections, dances, etc. The remaining rooms on this top floor are mainly dedicated to famous bullfighters, standing out among them the room of Rafael Molina ( Lagartijo ), Rafael Guerra ( Guerrita ), Rafael Gonzalez Madrid ( Machaquito ), Manuel Rodriguez Sanchez ( Manolete ) and Manuel Benitez ( El Cordobés ).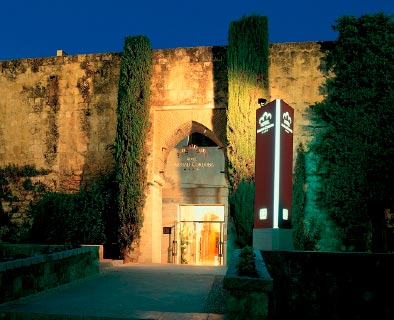 Address: Plaza de Maimonides.
Fare: 4 €. Friday: Free entrance.
Timetable:
Tuesday to Saturday:
10,00 – 14,00 h.
16,30 – 18,30 h.
Sundays and Festives:
9:30 a 14:30 h.
Afternoons: closed.
Monday: closed.