Description of the visit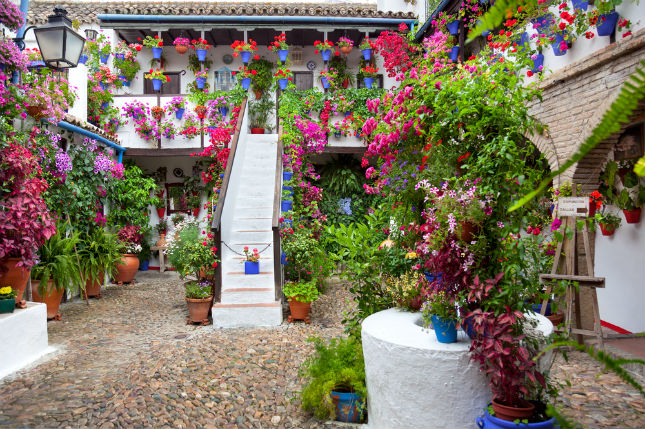 CORDOBA, FESTIVAL OF THE PATIOS
Regular Tour to the Patios, Interior Courtyards in Cordoba
(If you prefer a private guide, send the form specifying Private Tour)
Dates of the REGULAR tours: from 1 to 13 of May 2018.
The Spring Festival of the Courtyards of Cordoba takes place during the second week of may. It is probably the most elegant among the popular celebrations in Andalusia. It is a contest to discover which courtyard in private houses is the most beautiful. These days, when the flowers are blooming, the courtyards loose privacy to be open for the unknown visitors.
The houses are distributed in more than 600 streets, lanes and squares, forming the bigest Monumental City Center in Europe, a World Heritage of the UNESCO. We offer you the opportunity of visiting these patios at the sunset, in the aroma of the jasmin, orange blossoms and carnations and the thousand of flowers and plants that decorate its white walls.
Details of the visit
Price:

16€ per person, children free up to 12 years old. VAT included.

Includes:

Official Local Guides of Cordoba.

Guided tour by the Cordoba Official Guides:

members of APIT (Local Association of Professional Guides.

Duration:

2 hours aprox.

Starting:

at 19.00 hours.

Itinerary:

To be designed by the guide depending on the traditional and most visited patios.

Language:

Spanish

Meeting Point:

will be indicated on the confirmation voucher once the service is confirmed.

How to pay:

paying everything in advance, by credit card or bank transfer.

Más información:

Teléfonos: +34 958 225 226. Móvil: +34 677 417 790.
Observations to consider
The meeting point will be fixed later.

If there were the possibility of a group in a single language, 

in some occasions the visit could take place in two languages.
Buy
Book your Regular Tour in our booking web system. For addresses beginning with HTTPS all information sent to this site, is encrypted and protected against disclosure to third parties. This also guarantees the integrity of the data being sent over the Net.